How to start a blog in 2019
This post may contain affiliate links, please read our affiliate policy for more details.
Starting a blog ranked highly in most recommendations for a side hustle. While it is tough to stand out in a crowded arena if you find a good niche and put forth a genuine effort. I believe you can be successful.
I started this blog as a hobby because I enjoy website design and have accumulated enough pertinent information that the process became much easier for me. Therefore, I wanted to share my experience with creating a blog with you.
Step one:
Register your domain name. You can do this via Godaddy, perhaps the most popular domain registrar or another company. I'd recommend Bluehost or DreamHost as good alternatives.
Step two:
After securing your domain name (s), the next step is to find a good hosting service. Godaddy offer a basic hosting service for a reasonable price but it's got limited customization options. Plus I am not familiar with their services so I will not be discussing it.
In my opinion, the best content management system (CMS) to use is WordPress. I've got many years of experience with using this platform and I love using it. They regularly update the platform and there's a plethora of free and paid plugins for you to choose from.
My top two WordPress hosts are DreamHost and Bluehost. They both offer a 1-click installation service for WordPress. I'm currently using DreamHost and is paying $7.95 per month for unlimited domain names hosting. Their prices are reasonable and you can sign up for as low as $2.95 a month!
Another popular WP host is BlueHost. They offer similar services to DreamHost also for a reasonable price. I've used BlueHost in the past but now have switched to DreamHost. I just wanted to give you another option to choose from. I usually do not recommend any services or products that I've never used before.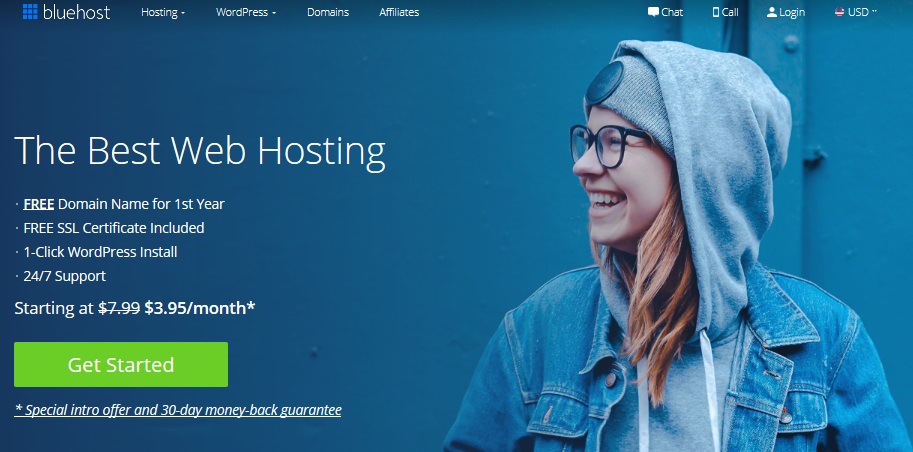 In addition to Bluehost or Dreamhost, other bloggers are highly recommending Site Ground. With Site Ground you get:
Easy to start – we've developed a tool called WordPress Starter – it guides the user through pre-selected themes and the most essential plugins. The tools make it extremely easy for even non-technical users to launch their first WordPress site.
Very fast, friendly and knowledgable support – available 24/7 on chat, ticket, and phone.
With SiteGround the user doesn't have to think about auto-updates, daily backups, SSL, CDN – we handle it all.
Currently Site Ground is running this promo:
3 months of hosting for just USD0,99
Valid for the StartUp plan only
Renewal after the 3 months will be on 70% off promo prices (USD 3,95)
Step Three
Step three is learning how to use WordPress. There are two basic functions of using WordPress. You will create either pages or posts. Pages are usually the menu items of your blog. Posts will be the meat and butter of your blog. Want more detailed instruction for creating a WordPress blog visit WP for beginners.
One of the plus of using WordPress is that you can create a post on your laptop or mobile devices. I just recently downloaded the app to test it out and I like it so far.
Above is a screen shot of the WordPress app interface.
Step Four: Customization
Once you have WP running you already have a theme selected and a new post of "hello world." You can go to the theme function and add themes. If you're new with WP, I recommend you to try one of the free theme out there and see which one fit your best. I have been trying different themes and change its appearances and finally am sticking with my current one. There is no right or wrong theme, just pick a design that you like best.
Later on when your blog starts to pick up traffic then you may upgrade your theme to the paid premium version. Premium themes usually start around $39.99 or so and goes up from there. The only difference between a free and a premium theme is more features and customization. In my opinion, this is not needed when you're first starting out.
WordPress have recently been upgraded the platform and has moved to block editing. I'm still learning how to use the new features. If you don't like the new block editing features, you can revert back to the classic editor by installing the classic editor plugin.
Overall, regardless of who you pick for WordPress hosting, WordPress is one the best content management systems out there. You'll need to familiarize yourself with how WordPress works and good luck with starting own your blog!